Handi-Care Intl. Equipment and Assistive Technology Program 2022-2023
Our award winning program
We are proud to announce that HCI /ASSA has won the 1st prize for 2022 from Assistive Tech Foundation.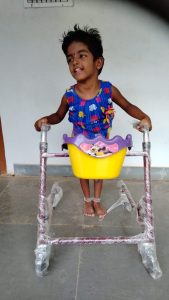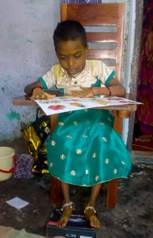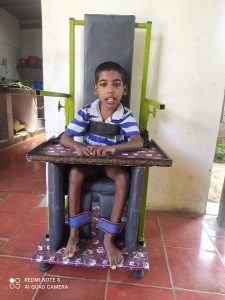 CP chair with standing frame
More than 5000 children and youth with various disabilities at Amar Seva Sangam, India, are supported by Handi-Care Intl. Many of them need essential mobility devices and equipment which they cannot afford. This includes hearing aids, walkers, wheelchairs, supportive chairs, orthotics, magnifiers, standing boards and other assistive technology. This program helps children, youth and young adults with disabilities in rural India obtain the equipment they need.
According to The International Classification of Functioning, Disability and Health (ICF): "any product, instrument, equipment or technology adapted or specially designed for improving the functioning of a person with a disability." Research Work by Canadians – PPT file
Handi-Care Intl. conducted a campaign for Assistive devices in 2020 and thanks to all our donors and funders, we provided a total of 752 pieces of equipment, ranging from power wheelchairs to orthotics and enabled 500 persons with disabilities to gain mobility and functionality.
Assistive equipment are an integral part of the overall rehabilitation and providing patients with these devices at the right stage of their development will not only make the other aspects of therapy more efficient, it will reduce caregiver strain considerably as well as enhance school enrollment.
There are no suitable government aid programs in India to assist people with disabilities to purchase such equipment that are custom made based on a proper needs assessment and individualized measurements. Jeff and Giovanna Boniface, two Occupational Therapists from Canada who volunteered at Amar Seva Sangam (ASSA) in 2017 and 2019 along with their son, Luciano and daughter Vincenza saw a great need for provision of equipment and assistive devices / technology to allow people with disabilities to maximize their function and reach their potential.
With the support of Bonifaces, Handi-Care Intl, set up the program in 2019 to support young adults with disabilities through provision of assistive devices. After the program showed significant improvement in the functioning of our clients, leading them to independent lives, the program was expanded to include children in home / village based rehabilitation programs at our partner organizations in India.
Our rehabilitation programs are unique and globally recognized. Our partner organizations in India are implementing both centre and home based therapy services by qualified therapists. When a patient is identified with an imminent need for an assistive device such as a wheelchair, walker, hearing aid, etc. it is brought to the attention of the program coordinator who in turn submits an application to HCI with details of the patient, his/her needs, the impending benefits and the patient's or families ability to contribute to the cost. A review board at HCI studies each application and upon approval, it is brought out for funding request.
By donating to this program, you are helping people with disabilities obtain custom designed equipment that is essential for them to be more functional and maximize their therapy outcome.
Monetary donations are most preferred so that local equipment can be procured. Though some items such as walkers, wheelchairs are donated from Canada we rarely get any pediatric equipment and local procurement of equipment allows for greater customization and future adjustments.
ASSA in India has their own Orthotics Unit, where they are able to make "Ankle Foot Orthotics" (AFO) and "Knee Ankle Foot Orthotics" (KAFO) that are custom designed for each patient. This not only keeps the cost to a bare minimum, but allows for adjustments as the child's condition changes.
We request your support for this much needed program. The list of beneficiaries and their requirements are listed below. Please select a child and click the "Donate Now" button, personalized for each child or choose "General Donation". You have an option to select multiple children by checking the boxes next to the donate buttons.

| Category | Equipment Included |
| --- | --- |
| | |
| Wheelchair, Walker, Rollator, Crutches, Standing Frame, CP chair and Corner chair | Wheelchair, Walker, Rollator, Crutches, Standing Frame, CP chair and Corner chair |
| | Communication related software with tablet or laptop |
| Manual Wheelchair for youth / adult | Manual Wheelchair for youth / adult |
| | Wheelchair, Splints, Braces, Activity tray, Head support |
| | |
| | CP Chair / Standing Frame / Corner Chair / CP chair with standing frame |
| Implant maintanance (battery and more) | Hearing Aid Maintenance services, Post Cochlear Implant |
| Mobility device / Orthosis | Rollator / Walker / Elbow crutches / Ankle Foot Orthotics(AFO) / Knee Ankle Foot Orthotics(KAFO) / Braces |
| Portable Toilet Adaptation devices | Shoe modifications, Portable Toilet modifications |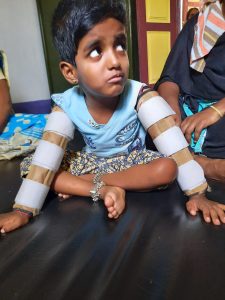 Without Rollator, Bilateral gaiters
She used to bend while standing. Not able to stand without support. She is not able to crawl.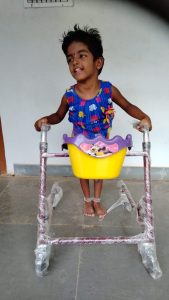 With Rollator, Bilateral gaiters
She can stand straight and take steps to initiate walking with the support of rollator. She crawls with gaiters.

Without CP Chair, Bilateral AFO
1. She cannot raise her head while sitting.
2. Have increased tightness in her ankle.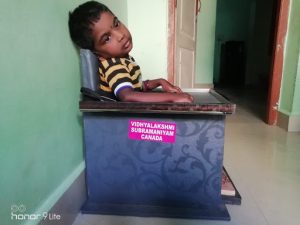 With CP Chair, Bilateral AFO
1. She raises her trunk and She can explore the surrounding while sitting in a CP chair.
2. Her tightness in the ankle have reduced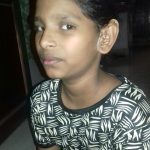 Initial Assessment Feb, 2015

Last assessment Feb. 2019

Receptive language: Score: 1.42 / 4.o
Expressive language: Score: 1.66 / 4.0

Receptive Language: score: 3.75 /4.0
Expressive language: score: 3.69 /4.0

Intervention provided:
Custom fitted hearing aid
Extensive speech therapy

Able to hear spoken words
Able to speak fluently with some errors.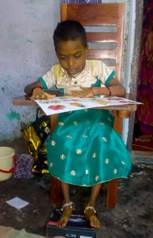 | Without Assistive device | With custom fitted walker |
| --- | --- |
| Inside home, he walks with wall support. For out door mobility, he was depending on parents / brother to hold hand and walk. | Now he is able to go to school independently. Able to participate in few games with his peers in the school. |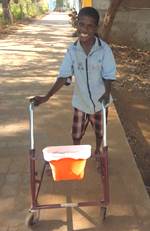 | Without CP Chair | With CP Chair |
| --- | --- |
| She was not able to sit independently, so most of the time in a day she was lying on floor and no participation in any activities. | With CP chair, she is able to attain sitting position. Now she can eat snacks by herself, watch TV, communicate with others easily and participate in learning. |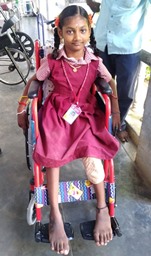 | Without Wheelchair | Without Wheelchair |
| --- | --- |
| Due to lower limb muscles tightness, walking was very difficult and high energy expenditure. So she was carried by others to reach school. | Now she is able to go to school by self propelling the wheel chair and other outdoor places nearby. |